Welcome to the ultimate fitness and nutrition destination for grooms who want to get in shape for their wedding.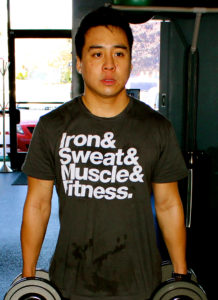 My name is Anthony J. Yeung, CSCS.
I'm a fitness expert and founder of GroomBuilder, the destination for ambitious guys who want to burn fat, build muscle, and overcome their barriers so they can look great on the big day.
---
---
Your wedding day is one of the biggest days of your life.
For many guys, that means friends and family coming in from all over the world and being at the same place for one amazing moment in your life. That means sharing that moment with the love of your life and beginning a brand new chapter of your lives, together.
But what's on your mind the days, weeks, and months leading up to the wedding?
I asked HUNDREDS of grooms to tell me their hopes and fears for the big day and they kept coming back to their same source:
Their body letting them down.
Look at what these real grooms had to say before their weddings:
"I don't want to look shlummy on my big day, or in pictures that last forever."
"I want to lose a few inches off of my waist line and gain confidence to not be self conscious of my body when my future wife and i are on our honey moon."
"I am needing to lose weight for my wedding. I need this for me and for her."
"I am the heaviest I have ever been and it all seems to be sticking to my stomach and love handles. My legs and are all lean it just seems to accumulate to my mid section."
"I want to look back on that day, and not necessarily remember the events or specific things that happened, but more so the feelings associated with the day (including the feeling of being the best version of myself physically)."
That's why I created GroomBuilder.
Do you want to drop 10lbs so you can look great in your tuxedo?
Look amazing in photos and for all the friends and family that will attend?
Build a little more muscle so you can feel more confident on the honeymoon?
Crush the self-doubt and fears of embarrassment on the big day?
I'll share the PROVEN tactics and strategies — tested with hundreds and thousands of clients — so you can rapidly improve your body and feel like the badass you DESERVE TO BE on your wedding day.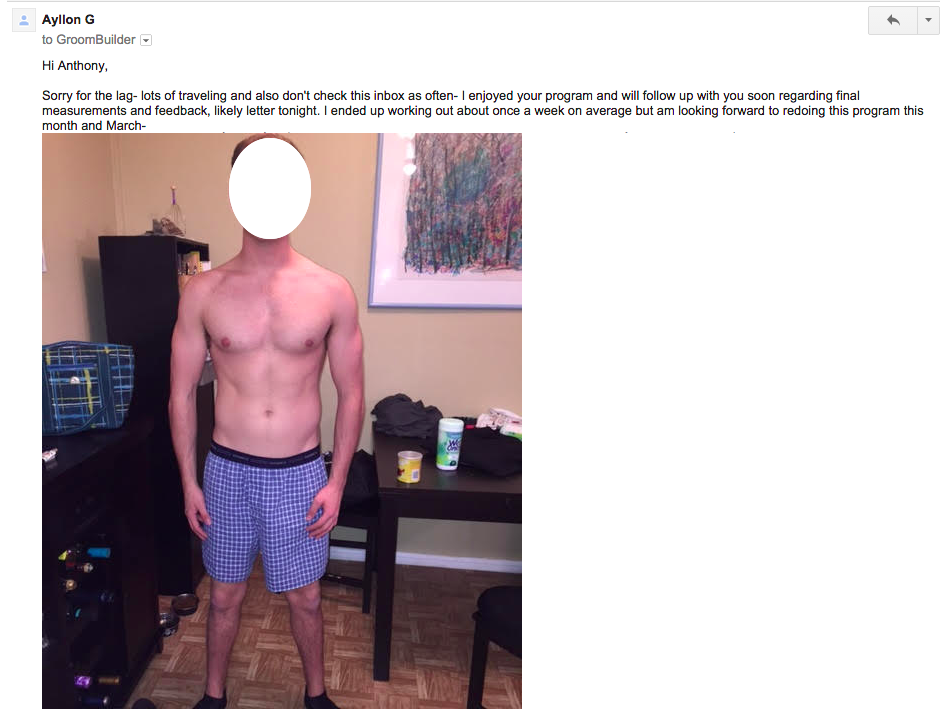 I promise NO ARTICLES about trivial information like "what's the best bicep curl" OR "how to build a bigger calves." (Does your soon-to-be-wife even care?)
Instead, I'll show you the foundational elements — nutrition rules, workout strategies, time-management tips, etc. — so you can lose that fuuuucking annoying belly, build a strong, confident frame, and scupt a body you can feel great about when walking down that aisle.
You'll make your big day special and look the best you can for the love of your life.